Can We Ride An E-bike Like A Regular Bike?
Have you ever ridden a bike? If you've never ridden a bike, you're probably missing out on a lot of the fun of riding. Nowadays, the electric bikes we see everywhere are the first choice for many people, so can we ride an electric bike like a regular bike?
The answer is YES, of course we can ride an e-bike just as well as a regular bike and, without exaggeration, more comfortably than a regular bike.
In fact, even if you've never ridden a regular bike before, you can still experience the fun of an e-bike. But, how do we ride an e-bike? 

Before we start riding, we need to know how to keep our balance. Riding an e-bike, like riding a regular bike, requires the rider to be able to balance while riding and you may need to practice over a period of time to find the most comfortable balance.
This time may be very long for some people who need to keep trying to achieve the ideal balance, but for others it may be very short because they are probably a very sporty person with good balance. 
It is very worthwhile to take time to practice balancing, braking and turning before riding. This will give you a better understanding of riding and improve your safety on the e-bike.

If you are considering riding an electric bike but have never ridden a regular bike before, this blog can help you (yes, even if you are an adult who has never ridden a bike)!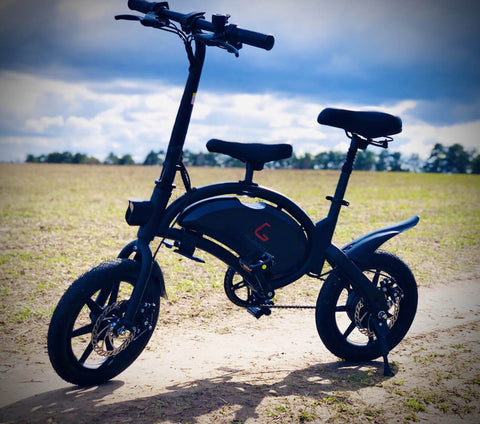 Q: How do we prepare our bike for the first ride?
A: Make sure your regular bike or e-bike fits you.
Make right saddle height
Whether riding a regular bike or an e-bike, we are all sitting on the bike, so the right saddle height is a prerequisite for a safe and comfortable ride.

On a regular bike, the soles of your feet should just touch the ground when you are sitting on the saddle. And when your feet are at the lowest point of pedal rotation, your knees should only be slightly bent, not bent to 90 degrees.

However, we all know that e-bikes are generally heavier than regular bikes due to the inclusion of accessories such as batteries. Therefore, when riding an e-bike you can keep the saddle lower so that your feet are almost flat on the ground when you are learning to ride, ensuring a safe ride. Once you have learned how to control your e-bike, you can adjust the height of the saddle to suit your height to maintain the most comfortable ride.
Preparation and daily practice
Find a flat, open area and start your first ride slowly. (at as slow a speed as possible, preferably with the e-bike set to the lowest speed mode)

Wear cycling appropriate clothing and make sure you are in control of your bike, and if possible have someone who can hold the saddle accompany you on your first ride.
Now let's get down to the steps of the ride!
Step 1: Keep balance
Start by sitting on the bike and pedalling forward with your feet, slowly getting a feel for how the bike moves on the ground. Once you are familiar and confident with the roll of the tires, try pedalling hard and then letting your feet dangle so that the bike moves forward quickly. Use only your hands on the handlebars to adjust and maintain your balance as you travel. Once you are familiar with this, try using your body instead of your hands to maintain your balance, when you will find that the front wheel of the bike will automatically turn forward.

These are the two most important skills on a bike: balance and holding direction. Practice a lot and build up your confidence.

Step 2: Learn to brake

When practising, choose an open field and slowly bring the bike to a stop so you are mentally prepared. If your bike has a handbrake, make sure which one controls the rear wheel and which one controls the front wheel. You can start by lifting the front wheel and turning it by hand, then test which handbrake works better on the left and right separately. The rear wheel brakes are easier and are suitable for beginners. The front brakes work better, but are more dangerous if not used properly.

It is important to get familiar with both hands of the brakes so that you can still have free control if one of the brakes breaks down.

Step 3: Learn to turn

Lean your body weight inwards on the bike, keeping your body at the same lean angle as the bike. Straighten your outside knees and subconsciously add some strength to adjust the direction of the bike.

To achieve the desired effect, you need to be brave and resourceful, bold and focused, keeping your eyes on the road ahead and ready to deal decisively with any situation that arises on the road.
If you are very adventurous and decide to ride an e-bike straight away rather than learning to ride a normal bike first, then follow the three steps above and you can still ride an e-bike straight away.

For safety reasons, for beginners we recommend that you choose the Kugoo Kirin B1, an e-bike with the right power for first-time riders.


12 Inch Inflatable Rubber Tire
12 inch inflatable rubber tire, taking into account the shock absorption and safety, riding more comfortable.

Lithium Battery
It has a 6Ah high-capacity lithium battery which allows for a longer range and higher speeds.

250W Motor
The strong driving force, 250W motor, Max 25km running distance.

APP Control
Download the app and pair your Kugoo ES2 E-scooter via Bluetooth. It allows you to access controls on your fingertips.

Bright Headlight
The headlight consists of a wide array of bright LEDs allows safer rides during the night.

Exquisitely Lit LED Chassis
LED strip on the side of the chassis allows riders to be seen in low lights.

Brake System
Comprehensive Disc brake system allows a safer ride.

Fast-folding Design
3 seconds fast-folding design, stable and convenient.

Carry Easily
102x20x72cm folding size, space-saving, and portable to carry, easily cope with heavy traffic.

Durable Material
Aluminum alloy + ABS + PC material provides sufficient insurance for your driving safety.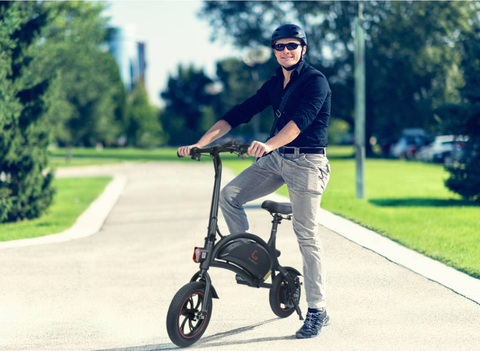 Please contact: market@kugoo-scooter.com, if you have any other questions. : )
---